Technology

That Understands
Your

Business
What Is REA
REA (Resources, Events, Agents) is a business process modeling ontology, closer to the business reality than any other known alternative. Unlike all other approaches, the REA model reveals why business processes occur, and provides for full traceability of all business transactions. Due to its abstraction level covering the business domain, the REA ontology is very useful in model-driven design of software applications.
Figure below illustrates the most fundamental REA concepts, which are economic resource, economic agent, economic event, commitment, and contract.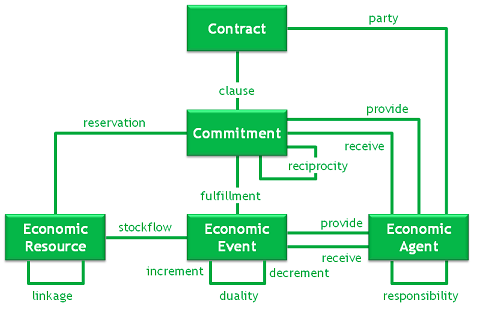 Explanation of these concepts and additional information is in the free chapter What is REA from the book Model-Driven Design Using Business Patterns.
Internet Resources
Mailing list REA Technology is designated to those who would like to understand REA ontology better, how to apply REA in business software, how to create REA models in various application areas.
Web site by William E. McCarthy contains most of the seminal and continuing research papers associated with the development of the REA model.
REA wiki REA Version 2 provides a platform for a new version of the REA-ontology (REAv2), which aims at supporting model-driven systems engineering, knowledge representation and systems interoperability.
Electronic Commerce Standards
The following electronic commerce standards have included REA in their metamodels or modeling methods:
Open-edi (ISO/IEC 15944-4 2006), Information technology - Business Operational View, Part 4: Business transaction scenarios – Accounting and economic ontology
ebXML, Electronic Business eXtensible markup language
UN/CEFACT, United Nations Centre for Trade Facilitation, and Electronic Business
Books
The following books on REA have been published (in chronological order):
Modeling and Designing Accounting Systems: Using Access to Build a Database by C. Janie Chang and Laura R. Ingraham, Wiley 2007, contains practical example in Microsoft Access. A book for students of accounting.
Model-Driven Design Using Business Patterns Pavel Hruby, Jesper Kiehn and Christian Vibe Scheller, Springer 2006. A book for software engineers.
Enterprise Information Systems: A Pattern-Based Approach
by Cheryl Dunn, J. Owen Cherrington and Anita Sawyer Hollander, McGraw-Hill/Irwin, 2004. A book for students of accounting.
Accounting, Information Technology, and Business Solutions
by Anita Sawyer Hollander, Eric Denna, J. Owen Cherrington, McGraw-Hill/Irwin 1999, describes the REAL concept (Resources, Events Agents and Locations). A book for students of accounting.
»Intelligent Agents
»An extension of the REA application for simulation of business ecosystems
»Released August 19, 2011
»Last update April 4, 2014

Intuit QuickBooks functionality matched by an application developed as a domain-specific language test, in 2 man-days using 380 lines of code.
»September 7, 2010
Google Apps Integration enables an option of storing business documents in the cloud.
»November 18, 2009

New version of Stock Flow Graph covering all resources including cash flow.
»December 3, 2009
Green Accounting application supporting Cement Sustainability Initiative
»June 19, 2009
Direct Store Delivery application running on Windows Mobile 6.1
»Supported operating systems are now Windows XP and higher, and Windows Mobile 6.1 and higher.
»June 23, 2009
Classroom Cashbox, a micro-vertical for classroom budgeting and accounting, featuring a new report generator.
»November 12, 2008
Budgets and Estimates are now part of the modeling and runtime environment.
»August 13, 2008

Posting 10.000 invoices in less than a second using in-memory database.
» Microsoft SQL server and datastream are now two supported data store options.
»April 21, 2008

Workflows are now part of modeling and runtime environment.
»June 23, 2008

Added runtime Multiuser Access.
»February 12, 2008

Probably the first model-driven REA application was demonstrated at REA-25, Delaware, DE, USA, on June 13-15, 2007.
Read more »